Today I am linking up with Jenn at Peas and Crayons for my first ever What I Ate Wednesday or WIAW for short.  Today will feature everything I ate yesterday.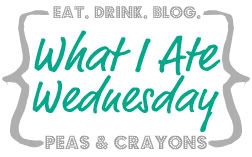 Breakfast was a green smoothie I made at home and enjoyed once I got to work:
1 frozen banana + 5 frozen strawberries + 6 oz Fage Plain 0% Greek Yogurt + 1 large handful of spinach + 1 cup unsweetened vanilla almond milk + 1 tbsp chia seeds
Morning snack I also ate at my desk:
Quaker Honey Nut Oat Squares + Fresh Strawberries
Lunch was a delicious and very filling salad that was leftover from dinner on Monday:
Baby Spinach + Roasted Sweet Potato + Roasted Chicken + Roasted Asparagus + Balsamic Vinaigrette (Picture recycled from dinner the previous night)
Afternoon snack I ate before I went home:
Blueberry Muffin Larabar
Dinner was a homemade Chipotle burrito bowl – one of our favorite go to dinners!
Cilantro Lime Quinoa + Black Beans + Sautéed Red Pepper and Onion + Salsa + Guacamole
Cilantro Lime Rice Recipe
2 c Vegetable Broth (water works fine)
1 c quinoa (could also use rice)
Juice of a small lime
1/3 c chopped cilantro
1/2 tbsp honey
Salt and pepper, to taste
Directions: Combine quinoa and vegetable broth in sauce pan and bring to a boil. Cover and reduce to a simmer for 10-15 minutes or until all liquid is absorbed. Add in lime juice, honey, cilantro, salt and pepper. Serve warm with toppings of choice.
xoxo – Paige