Linking up again this week with Jenn for another edition of WIAW.  Again, I will be sharing everything I ate on Tuesday.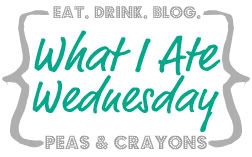 Breakfast:
Fage 0% Plain Greek Yogurt + Strawberries + Raspberries + Quaker Granola with Almonds and Raisins
Morning Snack:
Watermelon
Lunch: I saw this superfood salad kit on Megan's blog and knew I had to pick some up to try this week (thus the reason for our Costco trip on Saturday).  This salad is seriously so good and the best part is no prep work involved!  This will definitely be part of my regular lunch rotation.
Broccoli + Brussels Sprouts + Green Cabbage + Kale + Chicory + Dried Cranberries + Roasted Pumpkin Seeds (the salad kit comes with a poppyseed dressing, but I substituted balsamic vinegar + olive oil)
Afternoon Snack:
Dark Chocolate covered Pomegranate
Dinner: I made this balsamic chicken recipe I found on Pinterest.  I served mine with couscous on the side.
 Grilled Balsamic Chicken + Grilled Kale + Tomatoes + Couscous
Dessert:
Dark Chocolate Chips
I'm always looking for new, healthy recipes to make for dinner.  What are some of your favorites?
xoxo – Paige