Linking up again this week with Jenn for another edition of WIAW.  Today will be a look at my meals eaten on Monday.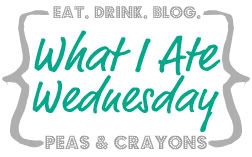 Breakfast was a fruit smoothie.  On Sunday afternoon, Kevin had a craving for a strawberry smoothie so I whipped one up and it ended up being so good I recreated it for breakfast on Monday. It was tasty and held me over for a few hours.
Fage 0% Plain Greek Yogurt + Frozen Strawberries + Frozen Banana + Frozen Pineapple + Unsweetened Vanilla Almond Milk
Lunch was a big ol' rice noodle and veggie bowl from Freshii.  Freshii is my go to lunch spot when I don't bring my lunch to work.  There are a ton of healthy options and it always fills me up for the entire afternoon!
Rice Noodles + Broccoli + Spinach + Carrots + Roasted Red Peppers + Artichokes + Balsamic (there was supposed to be black beans for protein but sadly they were forgotten)
Dinner was a hodgepodge of anything I could find in our pantry/refrigerator (if you couldn't tell, I did not make it to the grocery store this weekend).  Sometimes unplanned meals turn out to be the best ones!
Quinoa + Black Beans + Roasted Sweet Potato + Kale + Onion
Dessert was a "taste test" for cookies I was bringing into work the next day.  We had an office potluck to celebrate tax day so I made oatmeal cranberry cookies.  I had never made these before, but found a recipe online and had all of the ingredients at home so thought I would give them a try.  I've recently been trying to find healthier baking alternatives and have had pretty good luck with recipes so far.  These cookies are vegan and have no white sugar in them.  They could also easily be made gluten free by subbing out the white flour with a GF alternative. I have posted the recipe below.
Vegan Oatmeal Cranberry Cookies
recipe adapted from food.com
Ingredients:
1 c flour

1 c oats

1

/

2

tsp baking powder

1

/

2

tsp cinnamon

1 pinch

salt

1

/

3

c dried cranberries

2 tbsp

maple syrup (

real

)

1

/

4

c agave syrup

1

/

4

c coconut oil
1

1

/

2

tsp vanilla
Directions:

Preheat oven to 375 degrees
Start by mixing all of the dry ingredients together, then add syrups, oil, vanilla and cranberries.  Be careful not to over mix.
Spoon onto lightly greased, parchment or silpat surface. Bake for 8 minutes, until just turning slightly brown on edges.
**Note: I had to add a splash of almond milk to my dough because it was too dry and not sticking together well on the baking sheet.
What are some of your favorite "healthy" desserts?
xoxo – Paige