After several full days of dining out, my body has been craving vegetables like no other!  For dinner last night, I created a southwest salad that is full of health benefits.
Spinach: rich in antioxidants and is a good source of vitamins A, B2, C and K and also contains magnesium, manganese, folate, iron, calcium and potassium.  It has lots of heart-healthy benefits, is good for gastrointestinal health, and has anti-inflammatory properties.
Sweet Potatoes: high in vitamin B6 which can help prevent heart attacks, a good source of vitamin C, contain vitamin D which is good for immune systems, contain iron, and are a good source of magnesium which is the anti-stress mineral.
Avocado: contain vitamin B6 and folic acid which help decrease risk of heart disease, lower cholesterol levels, control blood pressure, and has anti-inflammatory properties.
Tomatoes: good source of vitamins A, C, K, folate, and potassium, contain beta-carotene which helps protect skin against sun damage, and can help regulate blood sugar.
Black Beans: protein and fiber have digestive tract benefits, can help lower blood cholesterol levels, and regulate blood sugar.
Southwest Veggie Salad (adapted from Two Peas and Their Pod)
Ingredients:
2 large sweet potatoes, peeled and chopped
1 tablespoon olive oil
Salt and pepper, to taste
Baby spinach
1 (15 oz) black beans, rinsed and drained
1 cup grape tomatoes, halved
1 cup corn (fresh off the cob)
1 large avocado, sliced
Tortilla strips (I used Archer Farms brand from Target)

Directions:
1. Preheat oven to 400 degrees F. Place the chopped sweet potatoes on a large baking sheet lined with foil. Drizzle with olive oil and salt. Roast sweet potatoes for about 40 minutes, tossing half way through.
2. Place spinach in a bowl. Top spinach with roasted sweet potatoes, black beans, tomatoes, corn, avocado, and tortilla strips. Serve with dressing of choice.  I used Newman's Own Lite Lime.
Hope you enjoy this salad as much as we did!
Linking up with Jenn today for another WIAW.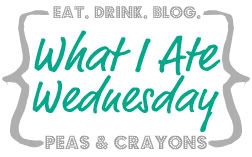 xoxo – Paige